Signature Rules
Please abide by the signature rules as stated below. This is not to spoil your fun, though to help users who may be on a slower connection. If you notice, our signature guidelines are quite a bit bigger than most forums!
You can have any amount of text as long as it does not exceed 5 lines in total
With regards to images within your signature, please stick by these measurements:
The total width of images must not exceed 450
The total height of images must not exceed 350
If you have 2 images - one at 125 and another at 125 this is allowed as it does not exceed the maximum.
If you signature is found to exceed these measurements, you will first receive a warning message from the Staff telling you to change it.
If you won't change it after we have warned you, your signature will be deleted.
here's an example: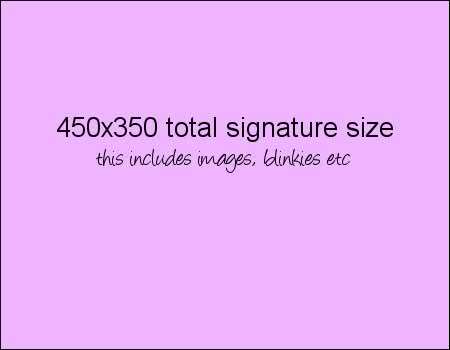 " />
Thank you!
Any questions please feel free to pm the staff!